News
Results

To view the results, click here: 3M Race Report.pdf
To view the results for individual runners, click here: 3M Runners Report.pdf
If you want your results to appear on the spreadsheet then you must email your results to Mike Prasad (official timings only, please): mike@prasad24.net
To view the results archive, click here: 3M Results Archive.xlsx
Latest parkrun results can be found on the parkrun page on this website.
Coronavirus (COVID-19) Update: 17th March 2020
The corona virus situation has been a rapidly evolving one and our priority is the health and wellbeing of our members and their families. As a result of the latest government advice, with a heavy heart, as a committee we feel we must pause our Wednesday evening training sessions for the foreseeable future until medical and government advice allows normal activities to continue. We are planning to keep in touch with our members all with activities they can undertake in their own time provided it is safe to do so. All the committee and coaches are available for support and advice if needed. We are more than a running club, we are family.

Stay safe everyone and look after yourselves and loved ones.
Key Club Documents
The club key documents can be accessed from the Documents page.
Grand Prix Series
The table of top 5 times for each of our Grand Prix locations has been updated, and can be accessed from the Grand Prix page.
Welsh Athletics Unite Conference March 2021
We were invited to speak at the Welsh Athletics Unite club conference this year, where Alyson Heard shared our experiences of the club managing through lockdown. A recording of the conference can be seen at https://youtu.be/I8DD8Scvmac, with Alyson presenting from 41:18:18 to 54:22:14.
A copy of our presentation is available here including videos from a couple of members.
Club Presentation Evening - Saturday 23rd November
We held our every popular annual awards night at the Purple Badger, Llanrhidian.
The event was another great success, with great food, drinks, and live band.
Congratulations to all the award winners and all those who contributed to making it an excellent evening.
A list of the award winners can be found here.
Llanmadoc Cross Country Volunteeering
A massive thank you to those that have volunteered to help out on Sunday, and to those that volunteered to help before their run but were not required. This Excel sheet describes your duties.
London Marathon Club Ballot
The draw for the club places for the 2020 London Mararthon will take place following the Grand Prix on 30th October 2019.
Eligibility to be in the draw and how to be included is shown here.
Castles 2019
Over the weekend of 8th / 9th June a number of 3M runners are representing the club in the Welsh Castles Relay.
Click here to find out more and to see who's running.
Club Constitution
The club consitution has been updated. Click here to view it.
Grand Prix Group Changes
Due to the recent growth in the club membership, we have changed the structure of the Grand Prix groupings. Find out more here.
SA4 Community Magazine
We were recently contacted by the SA4 Community Magazine following some of our runners being pacers at the Swansea 10k.
Read the text from the article here.
Castles 2018
Over the weekend of 9th / 10th June a number of 3M runners are representing the club in the Welsh Castles Relay.
Find out more and see who's running, here.
General Data Protection Policy and Privacy Statement
Data protection and safeguarding your privacy is something we take very seriously.
As part of our efforts to comply with the General Data Protection Regulation (GDPR) in the European Union on 25 May, we have made changes to our General Data Protection Policy and Privacy Statement to give you more visibility into how we use your data and keep it safe and secure.
The policy can be can be found here.
Time Trials
Monthly time trials are back!
Starting on Thursday 5th April at 7.00 pm from the 360 cafe. There will also be other regular time trails over other routes and distances.
More details can be found here.
Awards Night 2017 - Saturday 18th November
We held our every popular annual awards night at the Purple Badger, Llanrhidian.
The event was another great success, with great food, drinks, and disco.
Congratulations to all the award winners and all those who contributed to making it an excellent evening.
A list of the award winners can be found here
Team Muggy
The ladies of the club often raise money for Macmillan Cancer Support, and they were filmed by the BBC at this year's Cardiff Half Marathon (video on the right).
In the video you can see Christine Hurdidge, Laura Hall, Nicola Julian, and Meinir Jones - not forgetting Fay Sharpe in the mug!
They raised over £2,000 in donations. Well done Team Muggy!
This is Sparta!
Nathan Flear is the club's ultra-distance specialist who trains over 130 miles a week in training.
This year, Nathan's amazing performances meant he was selected for the British team for the Spartathlon, which is an historic 153-mile race from Athens to Sparta in 40-degree heat.
The video on the right shows Nathan arriving at Sparta as the first British runner, finishing 19th out of 369 elite international athletes. Which means Britain's leading ultra-distance runner is a member of our club!
Amazing, Nathan!
Llanmadoc Cross Country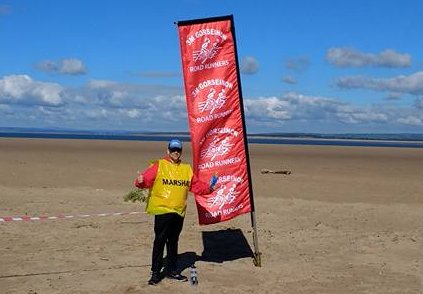 Every year our club organises the beautiful Llanmadoc cross country race, part of the long-running West Glam League.
This year saw the unveiling of the club's magnificent new sail flag, expertly modelled in the photograph by Ian Bamford.
The event was another great success, with perfect weather and 240 entrants, and the event ran like clockwork (we all know our jobs). And our runners did excellently as well!
Thanks to Dewi for the photo.
Swansea Strava Man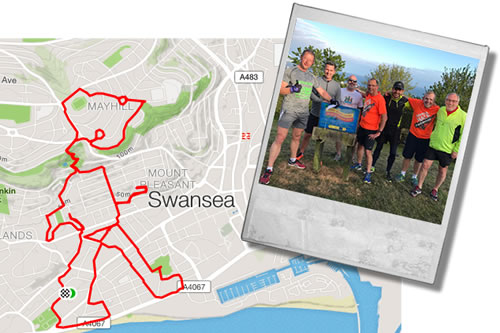 As part of our professional and highly-focussed training regime, some members of the club recently ran round Swansea and drew a giant in his underpants.
The team used their GPS watches, and uploaded their route to the Strava website.
The giant was so big that his feet were on the beach and his head was on top of Townhill.
Lliw Valley Grand Prix
The third Grand Prix race of this year's series took us to the Lliw Valley reservoirs (video on the right).
It was a beautiful cool evening, perfect for running. Very enjoyable. And an excellent free buffet in the Plough and Harrow afterwards.
Thanks to Nina and all the volunteers, and thanks to Paul Rees for the video.
Finishing the job for Lee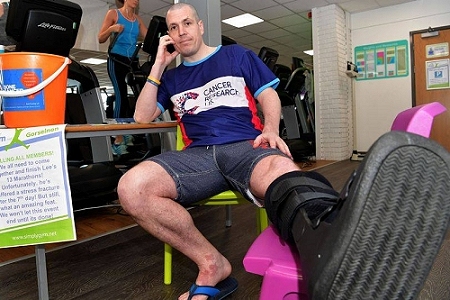 In the latest of a long line of his amazing fundraising efforts, club member Lee Morris decided to run 20 marathons in 20 days on a treadmill at Simply Gym in Gorseinon. The money raised was to go to the Rhodri Jones Memorial Appeal.
Unfortunately, after running seven marathons in seven days, Lee fractured a bone in his foot and had to stop.
After Lee appealed to the club for help, many club members immediately went down to Simply Gym and attempted to run the remaining distance. Lee's great friends helped out as well.
In just a few days, the club had run the whole distance and Lee's appeal was saved! Well done everyone who helped.
Presentation Night 2016
The club has held its annual Presentation Night at the Purple Badger in Llanrhidian. This is a chance for the club to reward the best performers over the year, and also to have a very nice meal and disco.
The top three runners in each Grand Prix group received a trophy.
Other prizewinners were Chris Jones and Fay Sharpe for Club Man and Woman, Paul Harris for Outstanding Achievement, Nathan Flear and Lisa Williams for male and female Runners of the Year, Ashley Pascoe for Triathlete of the Year, Mark Gosney and Gwen Smith for Cross Country, Cayo Arran and Vicky Holmes for Most Improved, and Nathan Flear and Sarah Barham for Best Newcomers.
Congratulations to all the prizewinners, and the organisers of the evening.
Bluestone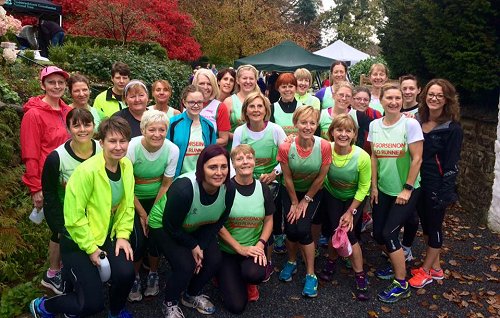 The club ladies are on their annual weekend away at the Bluestone resort in Pembrokeshire.
The photo shows them taking part in the Colby Parkrun.
I have no idea what they get up to apart from that, but they assure me it's an alcohol-free weekend, with long discussions about philosophy and politics. So that's very impressive.
Well done girls - you're a real inspiration.
Parkrun Club of the Year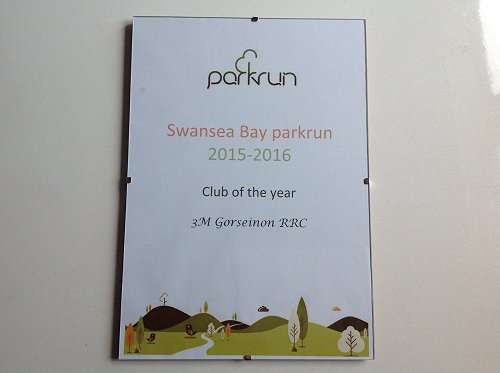 Our club has just won the inaugural "Swansea Bay Parkrun Club of the Year" award.
This is a great credit to all the race directors, marshals, timekeepers, and pacers that have volunteered from our club to support a great local event.
Our runners who have taken part in the Swansea Bay Parkrun have also done well - as can be seen on the Parkrun page of this site.
Well done all!
Gorseinon Cycle Path Grand Prix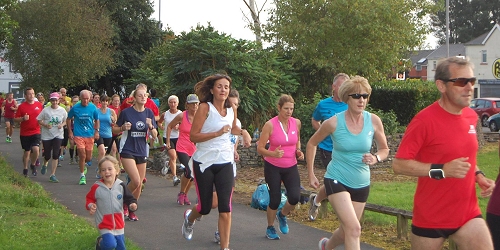 Plenty of people turned out for the seventh race of this year's club Grand Prix series.
There were several amazing PBs, which meant some people did not believe their watches! Plus Nathan Flear set the second-fastest time ever on the course.
The after-race buffet in the pub was as popular as ever.
Thanks to Katy for the photo.
Pier-To-Beer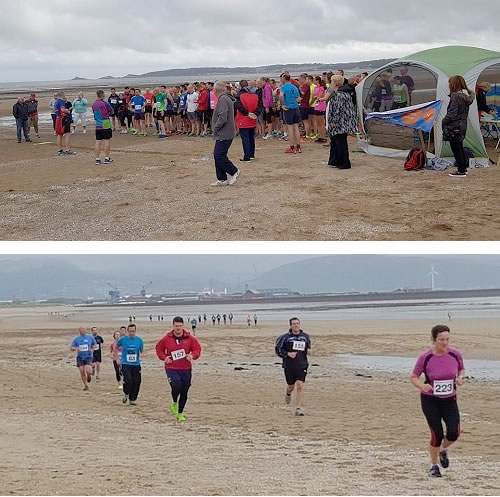 There was a tremendous turnout for our "Pier-To-Beer" 5K race along Swansea Beach. This was a charity event in aid of the Rhodri Jones Memorial Trust. It was a great cause, so thank you to all the members of the public who came out to run.
The sand was pretty good for running, apart from a couple of really soft sections. The toughest part was the strong headwind all the way back. However, we battled through and the event was a great success.
Thanks to Lee Morris and Paul Rees for organising a great race.
Thanks to Andrew Arran for the photos.
Car Stickers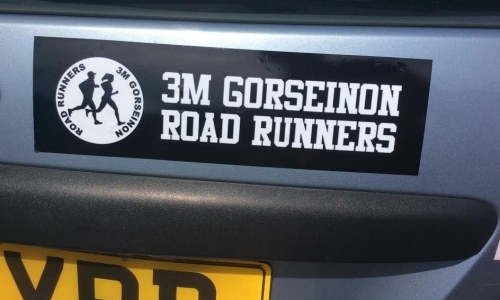 High-quality vinyl car stickers are now available.
Click here to buy black, or click here to buy green.


Welsh Castles Relay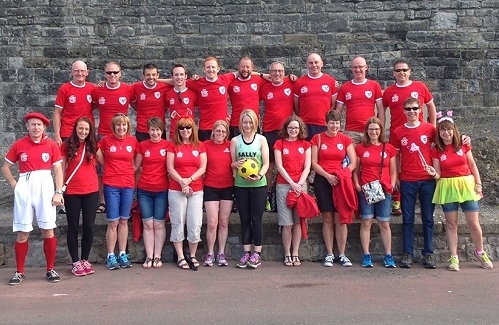 Congratulations to our team for competing in this year's Welsh Castles Relay.
The relay runs the entire length of Wales from North to South, taking in plenty of gorgeous scenery and a few difficult climbs.
As you can see, our team this year was wearing Wales football shirts (is there a football event coming up?).
We may not be the fastest team, but we are definitely the most fun team!
Running Down Under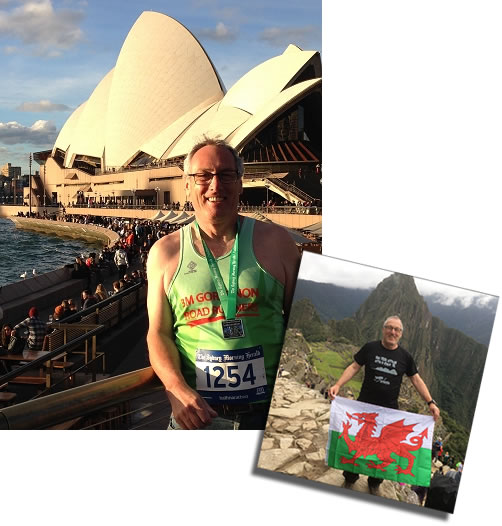 Congratulations to globetrotting club member John Sanderson for competing in the recent Sydney half marathon. The photo on the right shows John in his 3M club shirt, wearing the event medal.
During the race, he was rather surprised to bump into someone from Gorseinon!
John has competed in many international marathons including Rotterdam and Berlin.
London Marathon
Congratulations to all our runners at this year's London Marathon. A lot of money was raised for a lot of good causes
And well done to Ian Bamford, one of our club members, who was interviewed live on TV by Denise Lewis (see the video on the right). He managed to get a plug in for the club as well: "Good luck everyone in 3Ms". Thanks, Ian!
Marathon des Sables
Paul Harris from our club has just completed the Marathon des Sables ("Desert Marathon") which is widely regarded as the toughest footrace in the world.
The Marathon des Sables is an ultramarathon of 156 miles across the Sahara Desert in temperatures over 40 degrees celsius
The video on the right shows some of the adventures of Paul, including the completion of the toughest stage, the 53-mile Stage Four which takes over 24 hours.
Amazing, Paul!
We conquered "The Beast"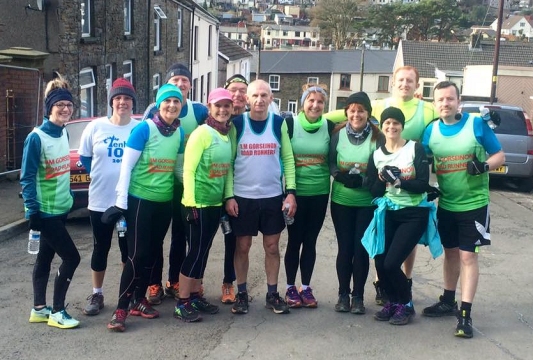 There was a great turnout from the club for "The Beast" trail run in Ogmore Vale, which was very kindly organised by Cwm Ogwr Running Club.
It was a clear, bright, and very cold day. The course was spectacular, with views over the valley, as we ran by the windfarms.
The course was incredibly steep and very demanding, but we're looking forward to returning next year to conquer "The Beast" again.
Cardiff Half Marathon
So many club members wanted to run in the Cardiff Half Marathon that a bus was hired.
Well done all the runners, especially those who smashed their PBs.
The BBC coverage captured a few of our club runners, including Steve Thomas and Mark Bamford (they're in the green club shirts in the video on the right). Steve paced Mark to take over four minutes off his PB.
And there was a good sing song on the bus back.
Club Legend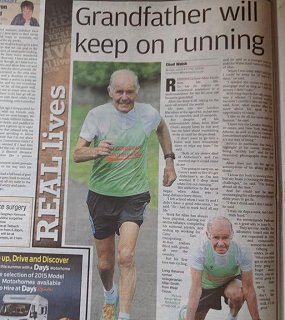 Club legend Allan Smith made the front page of the Swansea Evening Post because of his remarkable ability to defy age (he is 82) and continue to compete in local races (and set very good times).
According to Allan in the article: "I like to do all the races that are famous. I have run the London Marathon 10 times, and New York, Paris, and Athens, as well as lots in Germany, Switzerland and Austria. I enjoy it - it's my way of living."
"I know my body is slowing down, but my brain is looking for different challenges", he said. "I'm looking ahead all the time."
Allan requested some corrections to be made to the original article. He has only run 8 London Marathons, his fastest time being 2:41:16 which he did at the age of 51, not 63 as reported by the Evening Post. Allan started running at the age of 48 and his first marathon was in Newport with a time of 2:48:01.